Raccoon Removal Oshawa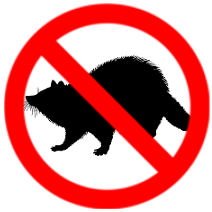 Raccoon control technicians operating in Oshawa and the surrounding regions. Our technicians are trained, experienced and complete every job from start to finish. Call us to book a no-obligation inspection: 905-581-3789
Our wildlife control technicians can deal with even the most challenging raccoon problems. We offer a proven step-by-step process to deal with any wildlife issue:
Assessment
Trapping
Removal
Sealing Entry Points
Guarantee Service
Raccoons
Raccoons have adapted perfectly in living in and around cities. They create their dens in attics, soffits, garages, chimneys and sheds. Every year female raccoons find dark and warm places near food sources to give birth and raise their young. Once raccoons enter your space they can tear insulation and wires, damage your roof and even tear holes in walls. Having a raccoon family living in your attic can result in thousands of dollars of damage.
Most raccoons carry the rabies virus, as well as many other pathogens. They contaminate every space they enter with their feces and urine. Pathogens can travel in your home through the ventilation system and be the cause of a series of health problems. Contact us today if you have a raccoon problem in Oshawa or the surrounding region. Call: 905-581-3789